### About Series "Stray Birds (2021)"
A youth inspirational drama about the struggles, love, life, and friendship among a group of rich and passionate young adults who try their best to change the pejorative label they've been given by China's society (rich second generation) into a positive one (new second generation).
Graduate student Wu Yue, rich second-generation Lin Shaoting and Su Xiao Man participated in a large-scale job fair and won NBI (IT company)'s internship qualification. Entering workplace, they face many challenges in a competitive environment and complex interpersonal relationships. As they work to prove their abilities, they also face pressure and test of love and friendship.
Subtle changes took place among those people because of their love, hate, trust and betrayal. Enthusiastic as they were, could they adapt to the law of jungle and could they keep the pureness of friendship and the loyalty of love?
Native Title: 飞鸟集
Stray Birds (2021) Also Known As: Fei Niao Ji , 飛鳥集
Director: Fu Xiao Yi
Genres: Romance, Life, Youth, Drama
Drama: Stray Birds
Country: China
Episodes: 40
Aired: Jun 3, 2021 - Jul 9, 2021
Aired On: Thursday, Friday, Saturday
Original Network: Mango TV, Tencent Video
Duration: 45 min.
Main Actors:
Gao Zhi Ting as Wu Yue
Xu Lu as Su Xiao Man
Anson Qiu as Lin Shao Ting
Yu Chen as Chai Qing
Wen Sheng as Zhang Jiang
Huai Wen as Ren Qian Qiu
Xu Wai Luo as Wu Tian Tian
Lin Jing as Xia Fei
Cui Tian Yi as Feng Zheng Zheng
Tan Kai as Xu Shu Yi
Jill Hsu as Zhu Di / Judy
Jia Liu as Director An
Song Yun Cheng as Su Feng
Alexia Kao as Wu Wan Juan
Wu Yue as Tan Miao
Jerry Yuan as [Host]
Director Actors:
Fu Xiao Yi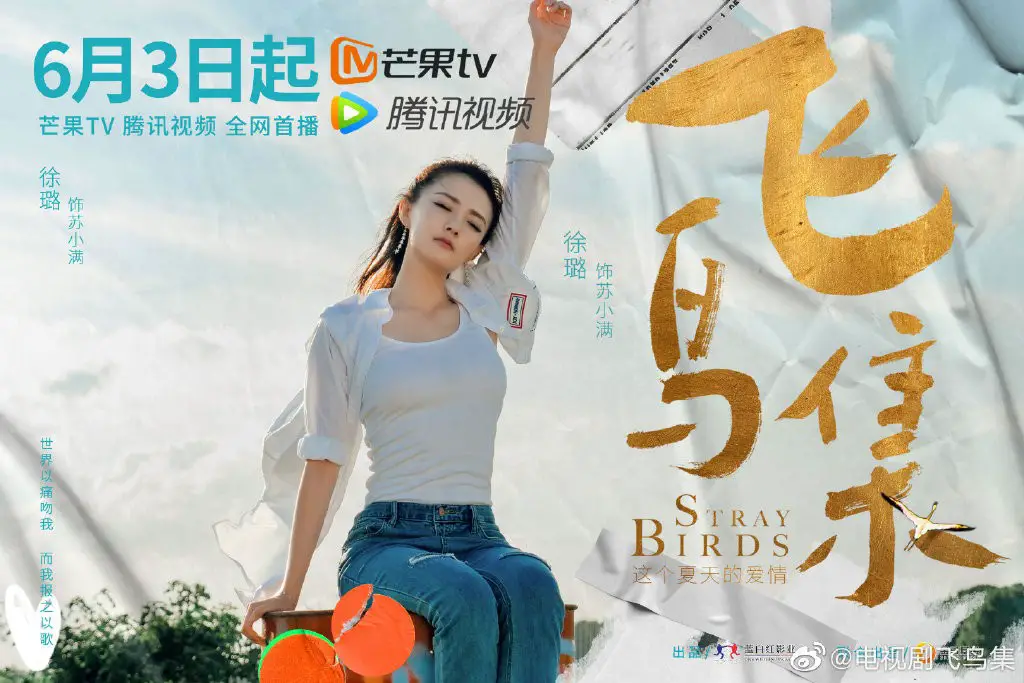 Watch free on: Xemovie.com.
#Review:
The synopsis is misleading!
This isn't a rich people struggle drama. In fact, the male lead is an orphan homeless man who works multiple jobs to support his younger brother and repay his dead parents loan shark debt. While he was studying abroad, his parents were scammed by a large company that introduced a new financial scheme. They ended up borrowing money from loan shark and committed suicide when they can't pay them back. ML came back to china to take care of his brother, while on the run from the loan shark. He then joins the company that now focus on big data tech but its also the same company that scammed his parents back then, and started plotting his revenge.
FL came from a privileged background but not really a super rich person like the synopsis made it to be. Her dad is a professor and her mother is a piano teacher. She studied in America, came back to china the same time as ML and sorta fell in love from the first sight when they're at the airport.
The second male lead is your typical ceo's son. His story is full of cliches. He likes the FL but knows he has no chance to be with her. So there's no evil third party in this relationship.
Now onto the review.. Like any other 40 episodes drama, there were so much going on. So many side characters and side stories, on top of being a majorly work/business focused drama. I skipped through parts I'm not interested in, and by episode 25+ I don't even know what's going on whenever they're in work mode. At ep 30+ I thought the story is getting better but the writers then ruined it again few episodes before the finale (I'm already tired of this drama by then and only played it for background noise).
Out of the business/work setting, what made the drama watchable for me is their little friends crew, the ML story development, and the FL fun character.
I will give the story a solid 8.5 if its only based on the ML background story, his revenge plan, and the final twist revelation. Those are truly high quality writing that's sadly ruined by a lot of filler scenes.
In the romance department: the main couple liked each other since early on, the girl's parents acknowledged them as a couple, their friends all called them a couple but they aren't actually together. The ML has some issues to resolve so he can't commit to a relationship. They only somewhat got together on the last scene of the final episode, and it's just the ML giving her a rose. No kisses or I love yous being said.